ABOUT PEASANT MAGAZINE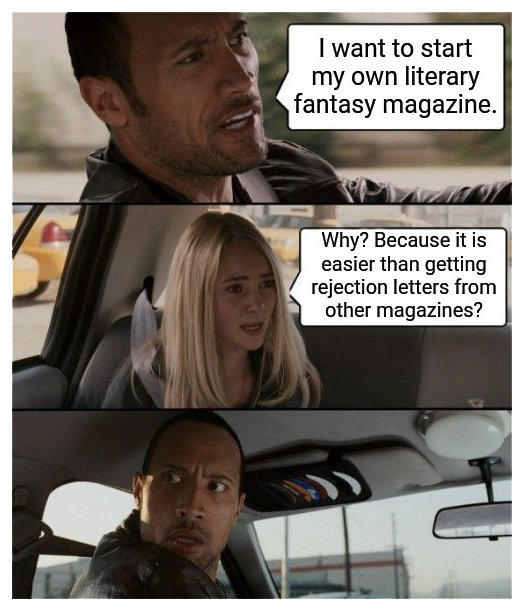 Peasant Magazine is a free literary fantasy journal/magazine produced by fantasy author Charles Moffat with the help of volunteers (and Artificial Intelligence). Hence the name 'Peasant'. We pay nothing, but we also charge nothing. This magazine is free* and produced on a pauper's budget of zero. We don't even have a shoestring budget. We have a budget of nothingness. A complete void.
* The PDF version of Peasant Magazine is free, but the paper version is not free due to the cost of printing.
People could in theory just print out the PDF and staple/glue/whatever it together, but if you want a nice looking version then just pay for the printed copy. For printing purposes we have opted for Amazon's print-on-demand because it is reasonably priced, doesn't require that we print thousands of copies, we can update the file if need be, and there's zero upfront cost. Oh and potentially free shipping.
We will (more or less) accept any well-written fantasy or historical fiction story between 1,000 and 40,000 words. We prefer stories to be in the 1,000 to 20,000 words range, but we will consider stories up to 40,000.
We prefer stories that are set in a medieval, ancient, or prehistoric setting. Any pre-industrial setting (pre-1750) will do. Stories set after 1750 will be automatically rejected. We do not accept fan fiction, poetry or adult fiction. Submissions must be your original work and either family friendly or PG (limit of one F-bomb per story).
In order to save time all we do is a little bit of editing, format the submissions, add some photoshop / AI generated graphics, and produce the magazine using the least amount of time and effort that we can.
I suppose we could accept free art submissions from people, but reviewing and rejecting art submissions also takes time to do. It is faster if we just use photoshop and/or AI to create the needed art. Please do not submit art.
---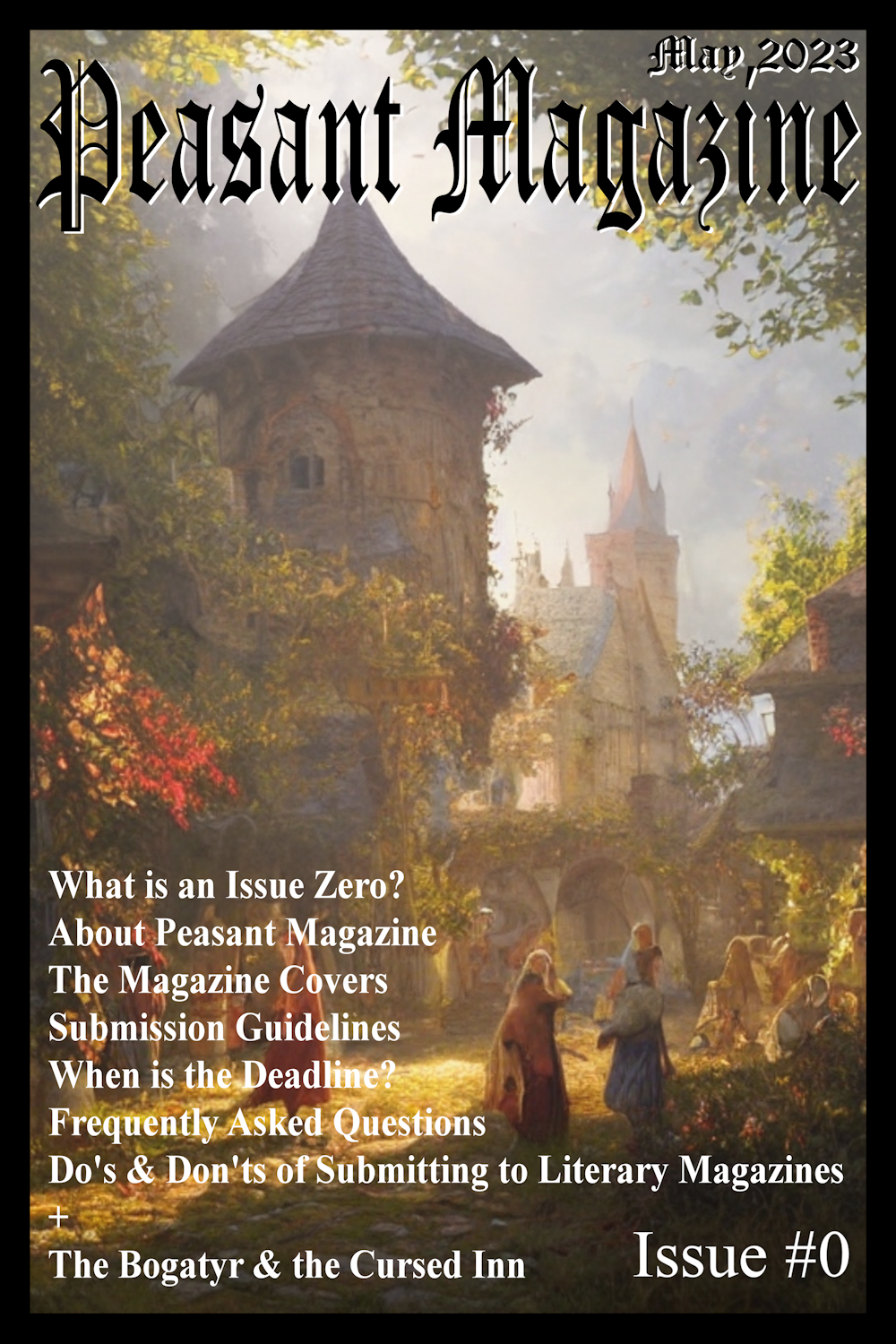 ISSUE ZERO
We have decided to release an "Issue Zero" as a proof of concept to show what the PDF version of the magazine will look like. In the future Issue Zero and other issues will be available on our new Past Issues page.
CONTENTS
A Word from the Publisher: What is an Issue Zero?
About Peasant Magazine
The Magazine Covers
Submission Guidelines
When is the Deadline?
Frequently Asked Questions
Do's & Don'ts of Submitting to Literary Magazines
The Bogatyr & the Cursed Inn
---
MAGAZINE COVER
One of our first priorities is to create an amazing looking magazine cover that will draw in readers.
In order to facilitate that goal of having an amazing cover, but still stay on a budget of $0, we have opted to use a combination of photoshop and Artificial Intelligence to create the magazine covers.
We are aiming for an October 2023 release date for Issue One of Peasant Magazine. Maybe. That may end up changing. But for now we are setting that as a goal. Since the cover is Autumn Themed, if the first issue is ready during Summer or Winter (or whenever) then we may end up changing the appearance of the first cover. Indeed, we have already designed four possible covers, one for each season.
It would be nice to be able to release new issues every January, April, July and October, but let's not get ahead of ourselves here. Let's try to produce the first issue and then see what happens after that. For now however we invite people to check out Issue Zero in our Past Issues section.
---
FREE SUBSCRIPTION
Readers can SUBSCRIBE to receive Charles Moffat's Newsletter in your Email. Subscribers are notified of New Issues of "Peasant Magazine", plus upcoming sales, free ebooks and new books coming out that are available for preorder.
Readers can UNSUBSCRIBE at any time if they wish to.
---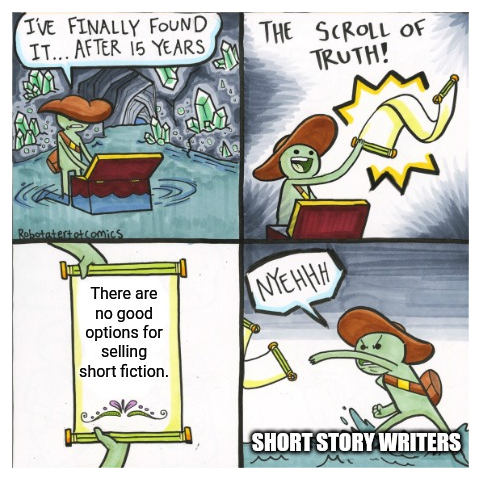 WHERE'D ALL THE MEMES GO?
In order to present a more professional version of the magazine (and because some people apparently cannot take a joke / have no sense of humour) we have decided to move most of the memes to a separate page: Literary Magazine Memes.
It is disappointing that so few people have a sense of humour and can both take a publication seriously and be able to laugh at things, but apparently such people are a rarity. Oh well, we tried. We failed. Time to keep trying by being "more professional".
---
Last Updated: May 1st 2023.