Attention! Warning!
Peasant Magazine sometimes purchases first world-wide publication rights. You should be aware that if your story is published by Peasant Magazine you will no longer be able to sell first publication rights to another publisher, either on the internet or in print, anywhere in the world. This means you will lose your opportunity to sell your story to paying markets except as a reprint at a drastically lower rate than they would offer for a story that had not been previously published. You should seriously consider offering your work to paying markets before submitting it to Peasant Magazine. We strongly encourage you to do so. You can always submit to Peasant Magazine later for reprinting after you've already been paid by a different magazine.
FREE SUBSCRIPTION
Readers can SUBSCRIBE to receive Charles Moffat's Newsletter in your Email. Subscribers are notified of New Issues of "Peasant Magazine", plus upcoming sales, free ebooks and new books coming out that are available for preorder.
Readers can UNSUBSCRIBE at any time if they wish to.
ABOUT PEASANT MAGAZINE
Peasant Magazine is a free literary fantasy/historical fiction themed journal/magazine produced by fantasy author Charles Moffat with the help of volunteers (and Artificial Intelligence). Hence the name 'Peasant'. We pay nothing, but we also charge nothing. This magazine is free* and produced on a pauper's budget of zero. We don't even have a shoestring budget. We have a budget of nothingness. A complete void.
* The PDF version of Peasant Magazine is free, but the paper version is not free due to the cost of printing.
People could in theory just print out the PDF and staple/glue/whatever it together, but if you want a nice looking version then just pay for the printed copy. For printing purposes we have opted for Amazon's print-on-demand because it is reasonably priced, doesn't require that we print thousands of copies, we can update the file if need be, and there's zero upfront cost. Oh and potentially free shipping.
We will accept any well-written fantasy or historical fiction story that is between 1,000 and 8,000 words that fits our criteria. Anything larger than that will be considered a hard sell for us. A story that is just barely under 1,000 words is a much easier prospect for us.
We prefer stories that are set in a medieval, ancient, or prehistoric setting. Any pre-industrial setting (pre-1750) will do. Stories set after 1750 will be automatically rejected. We do not accept fan fiction, poetry or adult fiction. Submissions must be your original work and either family friendly or PG (limit of one F-bomb per story).
We expect all submissions to be polished before submission. This doesn't mean that it has be perfectly edited, but you should at least make an effort to fix any issues with the manuscript before submission. If a submission is rife with spelling or grammar mistakes, or is difficult to understand, then it will lead to an automatic rejection.
We do not accept art submissions. Reviewing and rejecting art submissions takes time to do. It is faster if we just use photoshop and/or AI to create any art we need. Please do not submit art.
CURRENT ISSUE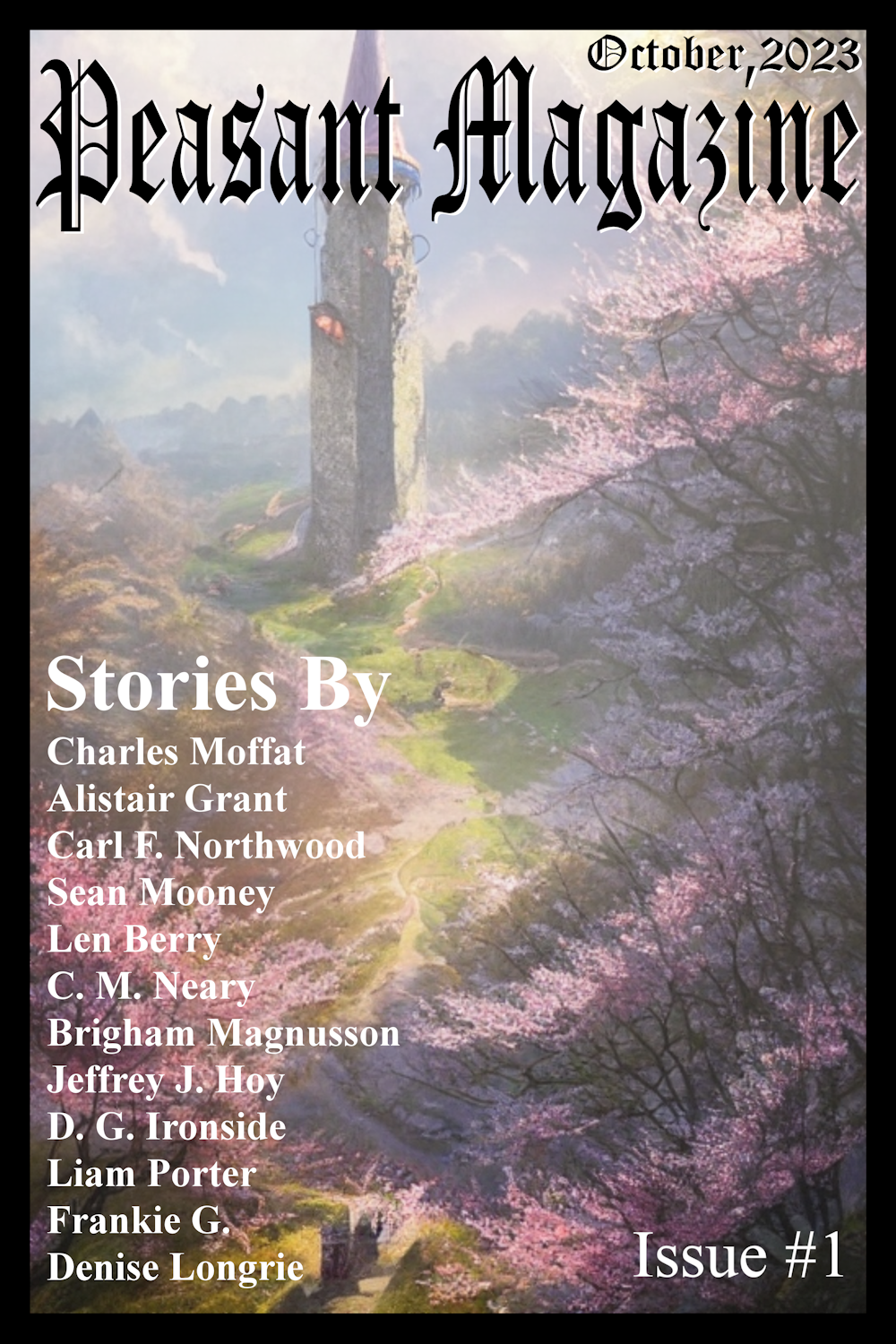 Peasant Magazine, Issue One - October 1st 2023
Embark on a captivating journey through time and imagination with Peasant Magazine, a literary journal weaving together the realms of fantasy and historical fiction. Within the crisp pages of our inaugural issue, twelve brilliant voices converge to bring enchanting worlds to life. Each tale is a portal, inviting readers to traverse ancient lands and magical dimensions, enjoy the heroism of unlikely characters, and the echoes of forgotten epochs.
Formats Available: Free PDF or 8x11 Magazine
CONTENTS
"The Pale Lady in White" by Charles Moffat
"The Selkie's Silver Comb" by Alistair Grant
"The Glamouring of Brond Col" by Carl F. Northwood
"The Tone of Truth" by Sean Mooney
"The Choosing" by Len Berry
"The Selkie" by C. M. Neary
"Drifting" by Brigham Magnusson
"The Tale of the Key of Darkness" by Jeffrey J. Hoy
"Beyond Anwar" by D. G. Ironside
"The Hunt" by Liam Porter
"The Last Lesson" by Frankie G.
"With the Death of Kings" by Denise Longrie
---
Last Updated: October 1st 2023.